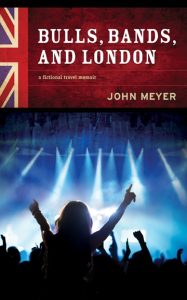 Bulls, Bands, and London is available for sale right now!

In print. And as an e-book. See below for details on how to purchase!
Neil Jarvis believes that the wild and sexy Jordan is the best thing in his otherwise predictable life. So when she mysteriously disappears in England after their first big fight, he drops everything in order to search for her and win back her heart. Now while his journey begins in the rock 'n' roll wonderland of London, it unexpectedly leads him to the chaotic debauchery of Pamplona's San Fermin Festival. And that's where salacious secrets are uncovered that inevitably test Neil and Jordan's roller coaster relationship—and threaten to tear them apart!
Bullets, Butterflies, and Italy is also available for sale!
See below for details on how to purchase!
Chatelaine magazine selected it as a November Best Book!
"…this is no Eat, Pray, Love. Instead it sets a fast and furious pace with destination unknown – but that's the point." Chatelaine, November 2011 issue
Zack Curtis truly dreads his thirtieth birthday. Estranged from his family and friends, he hopes his trip to Italy will lift his spirits and trigger the inspiration for a happier life.  But he soon offends an elusive mobster who threatens to turn his dream trip into a nightmare. From the spendor of Amalfi, to the grandeur of Rome, to the pageantry of Siena during its Palio Festival, John Meyer presents a unique travel memoir that masterfully combines a love story with an exhilarating adventure. Brimming with wit and humor, Bullets, Butterflies, and Italy is a literary travelogue enlivened with passion, jealousy, betrayal, and hope.
••••
Canadian customers, to purchase your books in print, just click on the button below.
International, American, and Canadian customers, you can also purchase the books in print at the amazon.ca links below!
http://www.amazon.ca/Bulls-Bands-London-John-Meyer/
http://www.amazon.ca/Bullets-Butterflies-Italy-John-Meyer/
••••
For e-book customers, you can purchase the books directly at your favorite e-book store
at Kindle, Kobo, Apple, Barnes & Noble, Sony, etc.
Or you can order your Kindle e-books right now at these amazon.com links…
http://www.amazon.com/Bulls-Bands-London-John-Meyer-ebook/
http://www.amazon.com/Bullets-Butterflies-Italy-John-Meyer-ebook/
Or order your Kobo e-books right now at these Kobo Books links…
http://store.kobobooks.com/en-CA/ebook/bulls-bands-and-london
http://store.kobobooks.com/en-CA/ebook/bullets-butterflies-and-italy
Or order your Apple iBooks right now at these iTunes Store links:
https://itunes.apple.com/ca/book/bulls-bands-and-london/
https://itunes.apple.com/ca/book/bullets-butterflies-italy/
••••
To check out the e-book version of either book in every other available format, head straight to your favorite e-book store or just click on the smashwords.com link below!
https://www.smashwords.com/books/view/367305